Continuous Mechanized Moulding Line
Product Detail
Product Tags
XZ14 Series Joet-Squeeze Moulding Line is the ideal equipment in mass production for foundry factory. Its advantages are less investment, quick returns, reduce labor intensity, raise cast quality, easy operation and maintenance.
The kind of moulding line adopt the joet-squeeze moulding machine, the mould conveyer transfer casting mould go on pouring with cool. The worker carry flask and sand mould through air hang, as well as core filling, match flask, and pouring etc, process adopt semi-automatic operation, the roller machine return flask.
Major equipments compositions are as follows:
◆XZ14 Series Joet-Squeeze Moulding Machine (according to flask size).
◆Mould conveyer.
◆Two way air hang.
◆Poring ring rail, Ladle etc.
◆Fall sand machine.
◆Return flask transport roller machine.
◆Flask (single wall,material:ductile iron).
◆ Y21 Series Mould Conveyer
This machine, the equipment collocated for moulding line, makes different process such as moulding, core filling, casting, flask shaking be connected together to form a close moulding line. It is the ideal equipment to realize the moulding mechanization and automation. Generally, it is continuously sperated, but can be beam walking style also as the requirement. The whole length and layout depends on the moulding specifications and the conditions of the workshop.
Model

Size Of
Pallet Car
Pitch Of
Pallet Car
Hight Of
Pallet Car
Min Radius
Of Turn
Number Of
Rollers

Motion Speed

Y2108
800*500
1000
500
1500
2

1.7-5.8m/min

Adjustable Speed

Y2108A
4
Y2110
1000*650
1334
500
2000
4
Y2110A
Y2112
1280*680
1668
600
2500
4
Y2114
1400*900
1668
600
Y2116
1600*1000
2000
600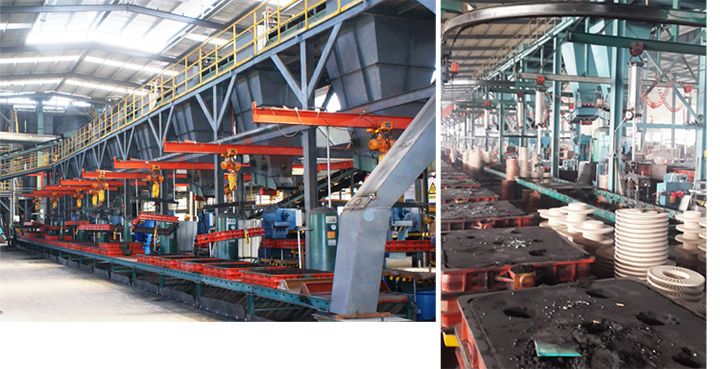 ---
Previous:
Open Mechanized Moulding Line
---